Sweet Tangy Keto Salmon Teriyaki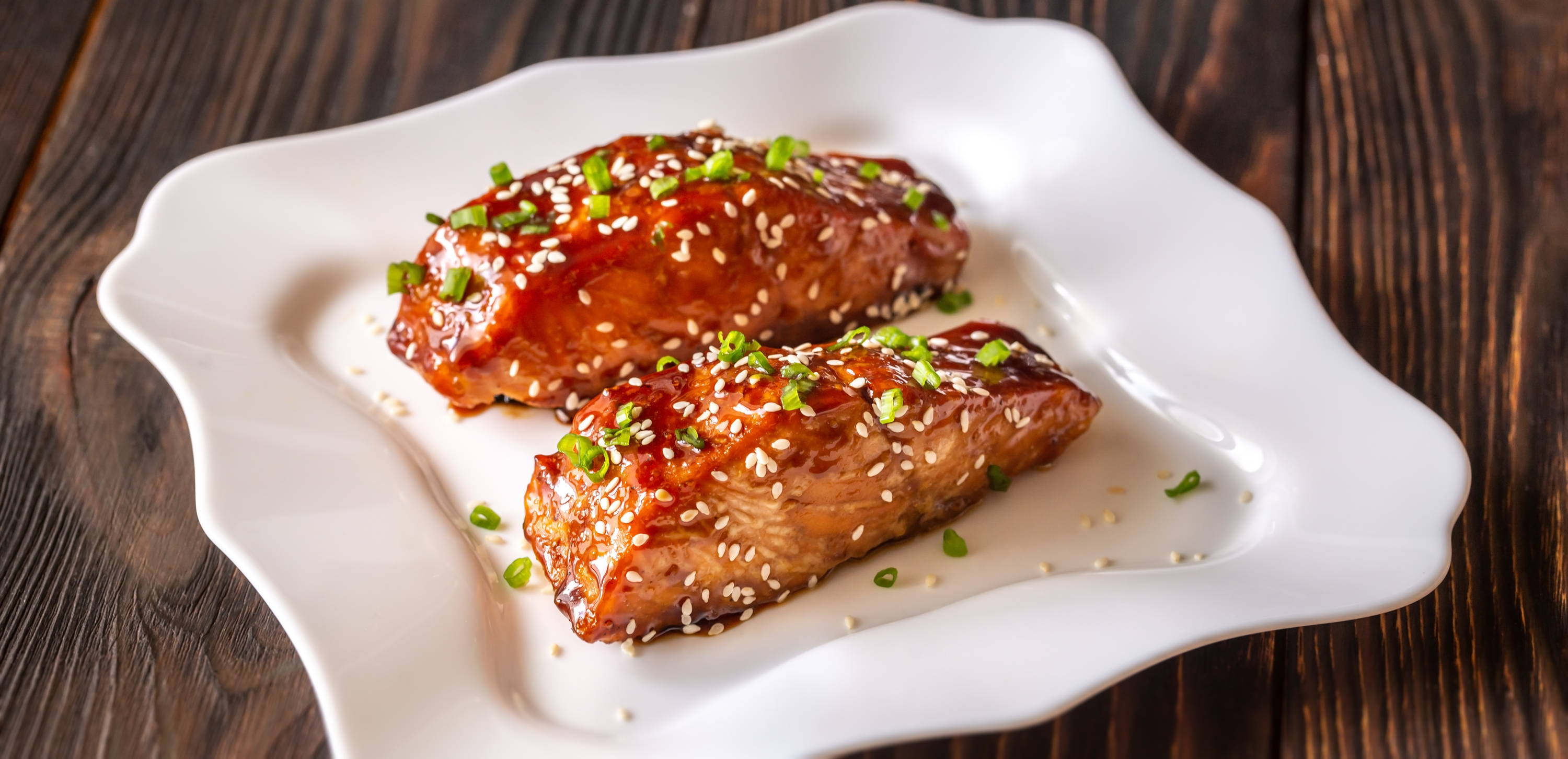 It can be hard to get the umami undertones of a teriyaki sauce right on keto, but this Sweet and Tangy Keto Salmon Teriyaki hits the nail on the head. A super simple recipe that will be easy to include in your keto meal plan and something you look forward to eating!
Total time: 35 mins
Difficulty: Easy
Servings: 2
Nutritional info (based on 200g fillets):
Calories: 381 kcal
Total carbs: 8 g
Fibre: 0 g
Net carbs: 8 g
Fat: 19 g
Protein: 41 g
---
One of the Japanese food's signature sauces, teriyaki is such a unique and bold mix of tastes that most who try it are hooked for life! However, to get these tastes right restaurants are most often serving up a significant amount of sugar and soy with your chosen protein.
Not to worry though, we are here to tell you that you can have all of the taste with non of the inflammation that sugar and soy cause! It's true, a truly healthful version of your favourite Japanese sauce is here! Keto Teriyaki! And here you get to enjoy it with the superfood that salmon is! If you're gluten free, this recipe is one you will love too!
Secondly, DO use the avocado oil as recommended in the recipe, it's chosen with your health in mind! If you don't have avocado you you can switch it out for coconut oil, butter or ghee which will all be healthy options, but the avocado oil will produce the most authentic taste. Learn more about healthy oils here and here. 
Remember, even when you order a protein from a restaurant the sauces can contain ingredients that can truly harm you health, so being able to make something this delicious at home is a brilliant health advantage!
Ingredients
1 tsp fresh ginger peeled and minced
1 clove garlic peeled and minced
1.5 tbsp coconut aminos
1 tsp powdered ingfit Monk Fruit Sweetener
1 tsp apple cider vinegar
4 tsp of avocado oil
1 green onion thinly sliced
1 tsp sesame seeds (for garnish)
2 wild caught salmon fillets
In a baking tray mix together the garlic, ginger, coco aminos, apple cider vinegar, monk fruit and 2 tsp of avocado oil (save the other 2 for later).
Place salmon fillets on top of the marinade, then turn so both sides are coated. Cover and marinate in the fridge for 20 mins to 1 hour.
Heat a large frying pan or skillet over medium heat. Add the remaining 2 tsp of avocado oil.
Place your salmon in the pan skin down and cook for 2 minutes before pouring the marinade over the fish.
Allow the salmon to cook until it is opaque about half way through and then turn and cook for 3-4 minutes more.
Plate the salmon with the sauce spooned over the top and garnish with green onion and sesame seeds.
Serve with your favourite veggies or a side salad, add some avocado to get the fat profile of the meal a little higher!
Just a note on salmon... it can either be a superfood or an extremely damaging food to include. Choosing Wild Caught is EXTREMELY important with this fish, as it is continually found to have one of the highest mercury content of all fish. Wild Caught is not only better for the environment, but for your cellular health and disease prevention too!