Easy Spicy Thai Keto Salad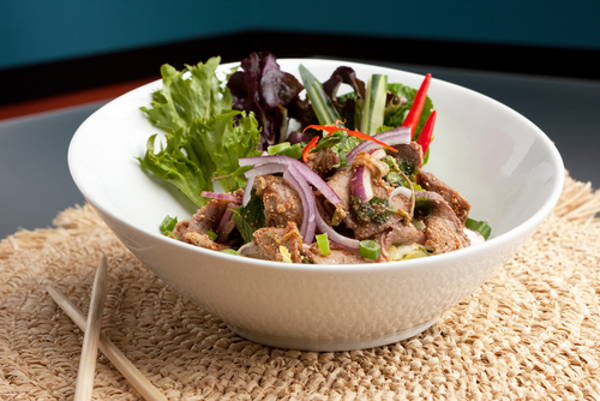 Published on July-28 2020, by ingfit
If you're on the hunt for inspirational and easy low carb keto salads then you should love this Easy Spicy Thai Keto Salad. A super simple recipe that will be easy to include in your keto meal plan!
Total time: 15 mins
Difficulty: Easy
Recipe By: Lee Sandwith
Nutritional info:
Calories: 331 kcal
Total carbs: 6 g
Fibre: 3g
Net carbs: 3g
Fat: 12 g
Protein: 48g
---
We love Thai food as it tastes amazing, it's super quick to prepare and it's one of the healthiest cuisines on the planet. Inspired by lots of time spent in South East Asia, Lee brought this Spicy Thai Beef Salad recipe back to Dubai with him! This super easy recipe is keto, under 400 calories and takes less than 15 minutes to prepare.
It's not 100% authentic Thai as he has left out some typical ingredients, however, any changes are minor and make the dish a tad more healthy. Firstly, many Thai dishes include sugar but we like to eliminate this from our recipes for obvious reasons – check out this article if you need a reminder why.
Secondly, we prefer Coconut Oil over Vegetable or Olive Oil which is said to be a healthier option as not all oils can withstand high temperatures without being damaged and becoming potentially harmful. Learn more about healthy oils here and here. 
And while healthy food delivery is becoming easier and easier in Dubai, we are still massive fans of cooking at home whenever possible to ensure every ingredient is as clean as possible.
For the salad
150g extra lean beef, cut into strips (278 kcal)*
Handful fresh rosemary, leaves picked
Freshly ground black pepper & sea salt
Handful vegetable salad of your choice (e.g. lettuce, red onion, bell pepper, tomatoes)
1 teaspoon Coconut Oil
For the dressing
1 tbs lime juice
1-2 red Thai bird eye chillies
1 tablespoon Thai fish sauce
1/4 tsp sesame seeds
Place the rosemary leaves on a chopping board with a good pinch of black pepper and salt.
Roll the beef on the board until it has a good coating of rosemary.
Place a wok (or frying pan) on a medium heat and add the Coconut Oil.
After 1 minute add the beef and seer on one side for 1-2 minutes until it browns, then turn the beef and seer for 1 further minute (it should still be red in the middle otherwise it is overcooked).
To make the dressing, in a small bowl, add all of dressing ingredients and mix well.
To a large plate (or salad bowl) add the lettuce leaves and salad vegetables.
Add the seared beef, the salad dressing, toss well and viola, an awesome Thai-style beef salad to enjoy!
If you like the sound of this super duper Spicy Thai Beef Salad, but don't love beef, try substituting it with shrimps or chicken, or your favourite alternative protein source.